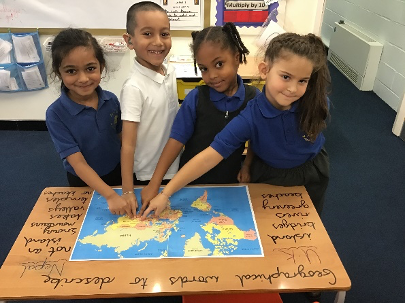 We offer an enquiry-based Geography curriculum that offers children the opportunity to develop their skills and understanding in the following areas:
Geographical knowledge
Pupils build up their knowledge of the physical and human Geography of different regions around the world, beginning with our local area in Year 1 and working through continents and climate zones as they move through the school.
Our Changing World
Pupils develop their understanding of the global impact of issues such as pollution and climate change on the world. They are encouraged to analyse the impact of their actions on the environment, what they value locally and globally, and how they can contribute to a better future.
Skills and Fieldwork
Fieldwork study is an integral part of the geography curriculum. It enables pupils to collect 'field data', apply geographical skills in a real-life context and to answer the questions that drive geographical enquiry.